New Arcadia: Stage One
by Eric Martin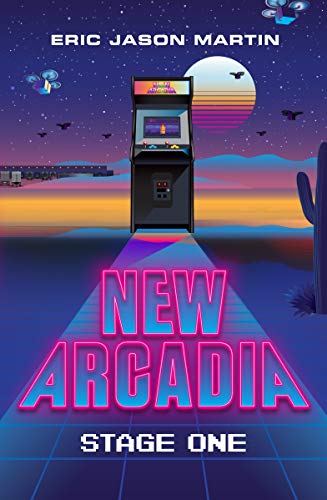 A FISTFUL OF TOKENS
From Eric Jason Martin, the director of Kate McKinnon and Emily Lynne's Heads Will Roll, and Maximum Fun's Bubble, comes an all-new adventure for fans of Ready Player One.
New Arcadia: Stage One is an epic journey back to the year 199X, an ancient era where you must use your fists, your wits, and your pager to survive.
In real life, the year is 2023, and life is not great. John Chambers is a middle-aged man in a dead-end job, trapped in his home in the desert. But in the immersive virtual world of New Arcadia, John becomes Blaze, a young urban fighter in a retro beat 'em up city. Blaze has incredible speed and strength, and absolutely zero lower back pain.
John / Blaze must team up with Kevin (aka Iceman) to save a mysterious woman named Jessica from the Spankers, a violent street gang in their gritty new neighborhood of Satan's Pantry. But Jessica is not nearly as helpless as they believe. These loners must learn to come together and stop the deadly Drug X from taking over their city.
Meanwhile, back in the real world, New Arcadia creator Lucas Dekker battles enemies of his own - including game-breaking bugs. The fate of his virtual city - and the real world itself - is at stake.
Strap on your fanny pack, and get ready for the fight of your life.
Similar Titles
Ready Player One
Rule of Cool
He Who Fights with Monsters: A LitRPG Adventure
The Host
Slaughterhouse-Five
Artemis
The Hitchhiker's Guide to the Galaxy
BOOK DETAILS
Categories: GameLit, Humorous Science Fiction, Science Fiction TV, Movie & Game Tie-In
Available in: Kindle, Print, Audiobook
Reviewer Links